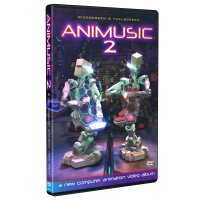 Animusic 2 DVD
The 2nd major project of music driven computer animation completed over the course of about 3 years.  This DVD featured 8 new music animations, lots of bonus materials, and fully animated DVD menus.  The scope and complexity of this project pushed the boundaries of the production system, rendering software, video encoding, among other things.
What I worked on for this project:
Instrument Detailing, Modeling, Texture Maps, Shading, Lighting, Render Management, Compositing.
What Wayne Lytle worked on: Producer/Director, Instrument Engineering, Music Production, Animation, Cameras, Music Animation Software.